COMMUNITY THEATERS
~Remember the Value of Community Theater and Mentoring Youth~


Fauquier Community Theatre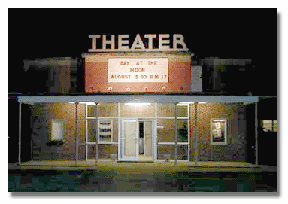 ~PRESS REVIEW~

March 27, 2013
"Glass harpist" concerts April 6 at Vint Hill
Jamey Turner has performed on unusual "instruments" for three decades.
By Dixie Waters
Fauquier Community Theatre
The Fauquier Community Theatre will present internationally renowned "glass harpist" Jamey Turner for two concerts Saturday, April 6, at Vint Hill.

Mr. Turner's show, "Music on the Water – From Mozart to Star Wars" will introduce local audiences to his unusual method of performing music.

Using water-filled glasses, he relies on the principles of sound to play a range of selections from Mozart to the theme from "Star Wars." Although he uses an unconventional instrument, there's no mistaking the melodies produced. Mr. Turner's rendition of "Ode to Joy" is as sharp and distinct as one played on a traditional instrument.

"This will be the first time most people have heard these pieces played in this way," says Debra Smyers, the founder of Arts Consulting International and an agent for Mr. Turner. "When people watch him play, their jaws literally drop. They're just amazed that this beautiful music can be coming from glasses of water."

His renditions sound like a mini orchestra, Ms. Smyers adds. Each glass represents a note, and Mr. Turner's energetic style of "playing" the glasses evokes a multi-instrument experience.

An Alexandria resident, he has performed around the globe for some 30 years. He has appeared at the Kennedy Center, Disney World, the White House Easter Egg Roll and the National Cathedral, among other venues. He has also appeared on television programs such as "The Today Show," "Good Morning America" and "The Tonight Show," when the late Johnny Carson hosted. In addition, he has performed with various orchestras, including the National Symphony Orchestra and Philadelphia Orchestra. Turner also traveled to Japan last fall for a TV special.

Mr. Turner's love of music goes back to his childhood. As a boy, he learned to play the clarinet, piano and other instruments. As he got older, he began to apply the principles of sound to create his own musical instruments. In addition to the glass harp, Mr. Turner plays a "wrench harp," a series of wrenches of various sizes that hang on a frame. He also turns implements such as saws into musical instruments.
Mr. Turner's performances involve audience interaction and education about his unique form of art. He often invites spectators to come onstage and join his one-man orchestra.
"This is a real family event that is enjoyable for all ages. There is something for everyone in the repertoire," says Smyers, who brought Elisabeth von Trapp to FCT for a sold-out performance last year.

Mr. Turner will perform at 2 p.m. and 7 p.m. on Saturday, April 6, at The Theatre at Vint Hill. Tickets are $12 for adults and seniors and $10 for students.

To buy tickets, visit http://www.fctstage.org or call 540-349-8760.

Fauquier Community Theatre is at 4225 Aiken Drive, Warrenton, VA 20187.



Arts Consulting International